Many homeowners who plan to sell in 2022 may think the wise thing to do is to wait for the spring buying market since historically about 40 percent of home sales occur between April and July. However, this year's expected to be much different than the norm. Here are five reasons to list your house now rather than waiting until the spring.
1. Buyers Are Looking Right Now, and They're Ready To Purchase
The ShowingTime Showing Index reports data from more than six million property showings scheduled across the country each month. In other words, it's a gauge of how many buyers are out looking at homes at the current time.
The latest index, which covers November showings, reveals that buyers are still very active in the market. Comparing this November's numbers to previous years, this graph shows that the index is higher than last year and much higher than the three years prior to the pandemic. Clearly, there's an influx of buyers searching for your home.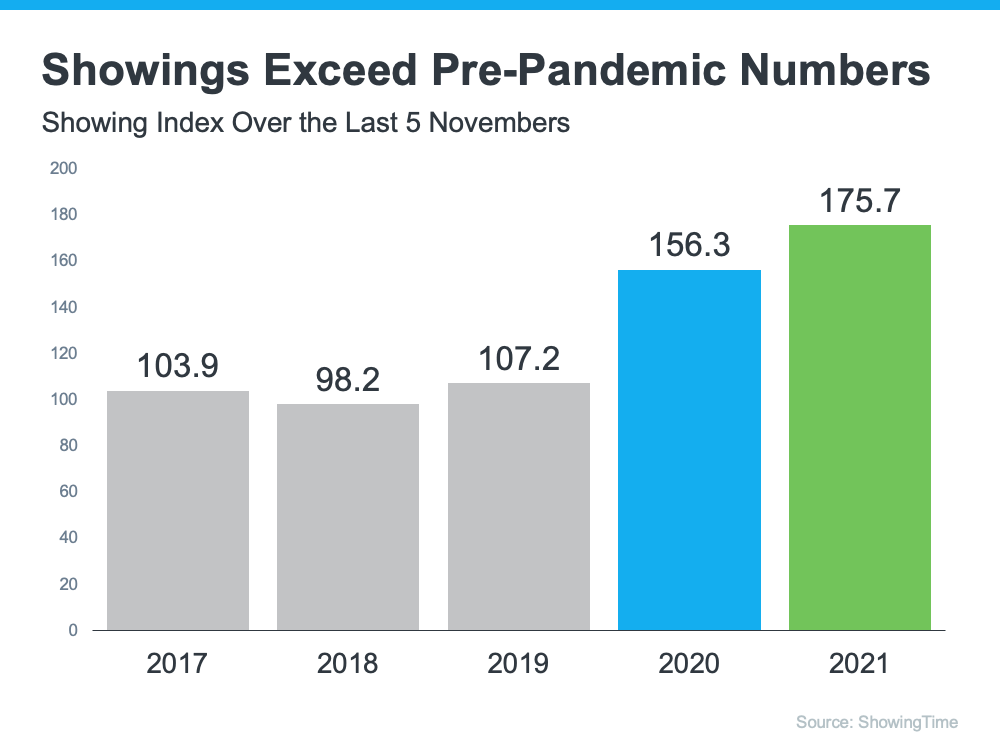 Also, at this time of year, only those purchasers who are serious about buying a home will be in the market. You and your loved ones won't be inconvenienced by casual searchers. Freddie Mac addresses this in a recent blog:
"The buyers who are willing to house hunt in a winter market, when there are fewer options, are typically more serious. Plus, year-end bonuses and overtime payouts give people more purchasing power."
And that theory is proving to be true right now based on the number of buyers who have put a home under contract to purchase. The National Association of Realtors (NAR) publishes a monthly Pending Home Sales Index which measures housing contract activity. It's based on signed real estate contracts for existing single-family homes, condos, and co-ops. The latest index shows:
"…housing demand continues to be high. . . . Homes placed on the market for sale go from 'listed status' to 'under contract' in approximately 18 days."
Comparing the index to previous Novembers, while it's slightly below November 2020 (when sales were pushed to later in the year because of the pandemic), it's well above the previous three years.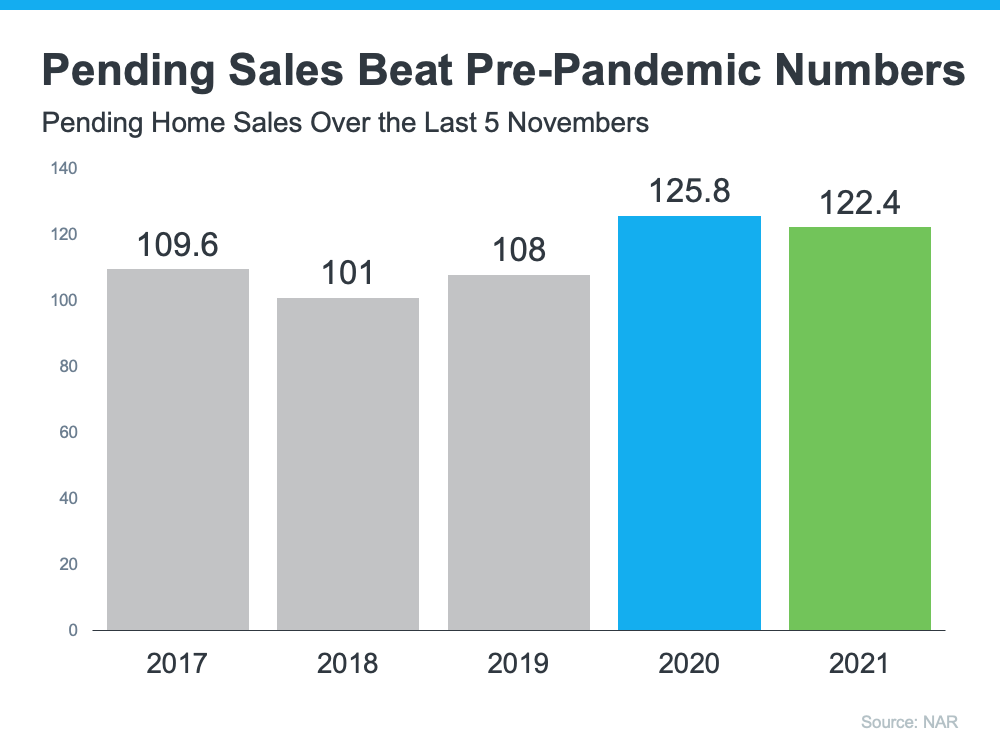 The takeaway for you: There are purchasers in the market, and they're ready and willing to buy.
2. Other Sellers Plan To List Earlier This Year
The law of supply and demand tells us that if you want the best price possible and to negotiate your ideal contract terms, put your house on the market when there's strong demand and less competition.
A recent study by realtor.com reveals that, unlike in previous years, sellers plan to list their homes this winter instead of waiting until spring or summer. The study shows that 65% of sellers who plan to sell in 2022 have either already listed their home (19%) or are planning to put it on the market this winter.
Again, if you're looking for the best price and the ability to best negotiate the other terms of the sale of your house, listing before this competition hits the market makes sense.
3. Newly Constructed Homes Will Be Your Competition in the Spring
In 2020, there were over 979,000 new single-family housing units authorized by building permits. Many of those homes have yet to be built because of labor shortages and supply chain bottlenecks brought on by the pandemic. They will, however, be completed in 2022. That will create additional competition when you sell your house. Beating these newly constructed homes to the market is something you should consider to ensure your house gets as much attention from interested buyers as possible.
4. There Will Never Be a Better Time To Move-Up
If you're moving into a larger, more expensive home, consider doing it now. Prices are projected to appreciate by approximately 5% over the next 12 months. That means it will cost you more (both in down payment and mortgage payment) if you wait. You can also lock in your 30-year housing expense with a mortgage rate in the low 3's right now. If you're thinking of selling in 2022, you may want to do it now instead of waiting, as mortgage rates are forecast to rise throughout the year.
5. It May Be Time for You To Make a Change
Consider why you're thinking of selling in the first place and determine whether it's worth waiting. Is waiting more important than being closer to your loved ones now? Is waiting more important than your health? Is waiting more important than having the space you truly need?
Only you know the answers to those questions. Take time to think about your goals and priorities as we move into 2022 and consider what's most important to act on now.
Bottom Line
If you've been debating whether or not to sell your house and are curious about market conditions in your area, let's connect so you have expert advice on the best time to put your house on the market.